Pin It Now!
*Updated 5/11/2013
I was so glad when my hubby asked for healthy Super Bowl food this year! One of the yummy dishes was homemade
Hummus
with crisp, colorful veggies. This was my second time making it from scratch. SO GOOD.
After scanning the web for different hummus recipes, I decided to use what I'd learned and just make up my own. It was a big hit with all my boys--6 year-old daughter wasn't that impressed. ;)
Homemade Hummus:
*1 can of chickpeas, half drained
*Juice of 1/2 a lemon
*1 tsp. of minced garlic
*olive oil
*1 tsp. salt--I usually add more to taste
*1/2 tsp. paprika
*1-2 TBSP of sesame tahini
**Empty 1/2 drained can of chickpeas into a blender. Squeeze juice out of the 1/2 lemon and add to blender. (I just squeeze it right over the chickpeas.) Add the garlic, salt, and paprika. Begin blending on low speed. Slowly add olive oil to reach a nice, smooth consistency. Taste and add more salt if necessary.
I like it as is, but my hubby likes to jazz it up with some ground red pepper. :)
Tips for using Hummus:



Use as a dip for veggies, black bean chips or any tortilla chip, crackers, etc.




Spread onto warm bread or grilled flat bread. (Hubby grilled flat bread for Super Bowl--oh my--Amazing with Hummus!!




Use on a veggie sandwich as a substitute for Mayo.



How do you like Hummus?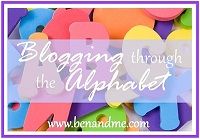 A little late on getting my H linked, but here it is finally!