Pin It Now!
I've been a patient of chiropractors and an employee of chiropractors. I've had back and hip issues since I was 14. Chiropractic care
has helped tremendously
over the years.
Well, from about the age of 23-33, give or take a couple of years, I didn't see a chiropractor at all. Just wasn't in our budget. My back started hurting again, especially my mid back where a pinched nerved cause quite a bit of pain and irritation. A couple of years ago, I was able to start going to see a chiropractor again due to our flexible spending account. Yea!
So, what does this have to do with
Kinesio Tex® Tape
? Well, my current chiropractor uses this tool, and I have to admit, the first time it was applied to my back, I had doubts that this tape would do anything. Boy, was I wrong. I love
Kinesio Tex® Tape
!!
This tape has helped my mid-back and lower back feel much better when I was experiencing chronic pain. Obviously, I can't give all the credit to the tape since I was getting adjusted regularly as well. The tape was icing on the cake!!
Kinesio Tex® Tape is based on the science of
Kinesiology
. Basically, the tape will lift the skin to increase the space between your skin and muscles. This reduces pressure which helps promote circulation and lymphatic drainage.
The tape can be worn for about 3-4 days and is designed to allow the body and muscles move while assisting rehabilitation. An hour after application, you can resume normal and even athletic activity and shower. It will start to come off after 3-4 days. If the Kinesio Tex® Tape has been applied properly, it will have natural wrinkles when you are in a relaxed state.
It's rather skin-friendly. I didn't have any reaction to it, and I have pretty sensitive skin.
Kinesio Tape can be used to:
reduce pain
reduce selling
reduce muscle spasms (The tape really helped me with this one!)
support tired, weakened, and strained muscles
enhance performance of tasks or movement
support weak or ineffective joints or muscles
protect body parts from injury
promote body's natural healing process
What's great about this tape, too, is that you don't have to go to a chiropractor to get it or use it. It can be ordered on Amazon for a decent price. I am definitely considering ordering some since I am having to take a break from chiropractic care to pay for my kids' braces. :(
It comes in different colors - I've included two of them here:
Red Beige
The information in this post comes from a pamphlet from my chiropractor's office.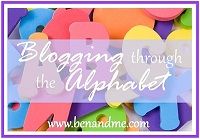 Be sure to check out other
K's at Ben and Me!
Also linking to
Works for Me Wednesday
since Kinesio Tex® Tape works for me!!
Image 1 source
Image 2 source
Affiliate links included in this post