Pin It Now!

Amazing Science! Volume 1:
Website price - $19.95 (a 20% savings)
Download price - $17.99
http://www.mathandscience.com/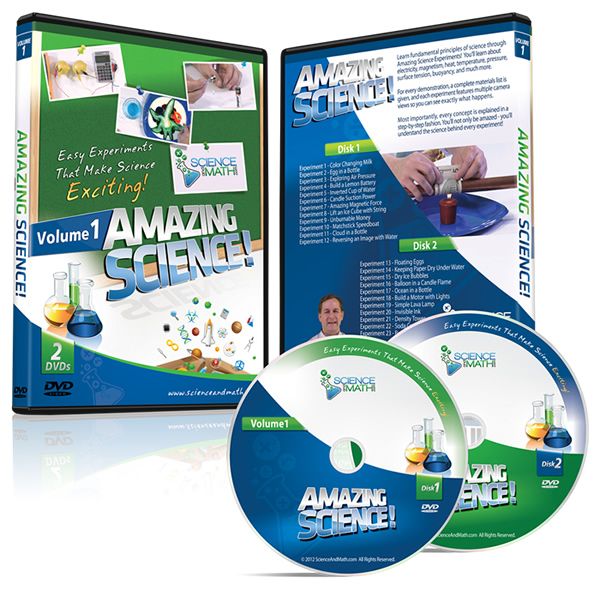 I utterly dreaded doing science experiments when I was in school, especially when the Science Fair rolled around every year and I had to somehow come up with my own.
Wasn't exactly my special gift.
For the most part, I enjoy doing science experiments now as a homeschool mom of three. I have to admit, though, sometimes it can get tricky trying to follow a lengthy,
written,
step-by-step procedure.
Being able to
watch
experiments makes doing them super easy!
Scienceandmath.com
makes this possible with their Amazing Science! Volume 1 DVD set. It comes with two DVDs featuring 23 exciting and doable experiments. The experiments are brought to life before your very eyes and are presented clearly in step-by-step fashion. A complete list of materials is given at the beginning of each experiment, and most of the time the materials can be found around the house or purchased inexpensively. The speaker also tells you where you can find certain items that you might not have on hand.
Not only will you be able to watch the experiments, you will learn the "why" behind each and every concept demonstrated. You will learn basic scientific principles about electricity, chemistry, magnetism, physics, surface tension, heat, air pressure, temperature, and more. The length of each experiment varies but most seem to run for about 15-25 minutes.
Some of the science experiments include: Color Changing Milk, Keep Paper Dry Underwater, Build a Lemon Battery, Inverted Cup of Water, Simple Lava Lamp, and Unburnable Money.
A complete list can be viewed here.
A few of the experiments can be viewed online such as this one - Balloon in a Candle Flame.
For other examples,
visit the homepage.
My children enjoyed taking a break from their regular science routine to watch these engaging videos. It was especially satisfying to see them actually doing the experiments because they wanted to. I watched the first DVD with my children, but they finished the second one on their own and even did a few of the experiments without my help.
Here's my oldest amazing us with the power of air pressure,
my middle child balancing an inverted cup of water and slowly blowing water out of the top cup,
and my youngest exploring surface tension with milk, soap, and food coloring.
I recommend
Amazing Science! Volume 1
for a fun, scientific learning experience. There are experiments for all ages and most are pretty easy to replicate. It is perfect for homeschoolers but also for children who attend school outside the home and need good ideas for science projects. It would also be a great purchase for summertime providing kids with exciting, educational activities when it's too hot to play outside.
See what other Crew members had to say here.

Disclaimer: As a member of the TOS Crew, I received this product, at no cost to me, in exchange for my honest review. All opinions are mine.