Pin It Now!

Growing Up Wild
is a DVD series featuring a beautiful missionary family
(with super cool hair!)
who lives in the remote jungle of Papua, Indonesia. The family includes Dad (Mike), mom (Libby), and 4 brothers: Morgan, Hudson, Kian, and Asher. In the series they share about daily life in the jungle and about the environment in which they live. They also share about the Wano culture, the tribal people with whom they share the Gospel.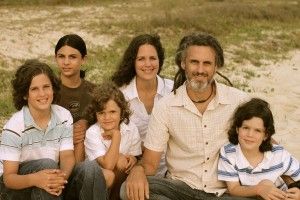 Growing Up Wild was created with a specific purpose in mind. Here's what the Wilds have to say about it: "The "Growing Up Wild" DVD series was developed for the purpose of introducing children to the work going on in foreign mission field. Our hope is that "Growing Up Wild" will educate and challenge your children, and be used by the Lord to play a part in raising up the next generation of missionaries!"
Learn a little more about the Wild family by watching this video. There are a few more videos about them
here
.
Along with other Schoolhouse Review Crew members, my family and I had the privilege of reviewing volumes 1 and 4 of Growing Up Wild.
(There are 5 total.)
Each volume features three 15-minute episodes including an activity guide for each. My kids liked the episodes so much that they would watch all 3 at once! For the most part mom narrates, but their life as missionaries is told through the eyes of the Wild brothers.
Volume 1 includes: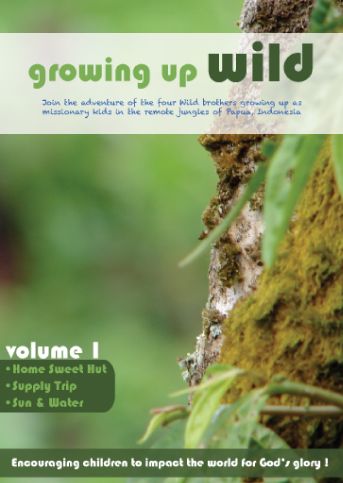 *
Home Sweet Hut
- See the house in which the Wilds live, and learn how the natives build their houses in the jungle. I still get chills recalling which creatures try and make their homes in the rafters of the Wilds' house!
#Shiver#
*
Supply Trip
- See how the Wild family brings food and other supplies to their home. It definitely takes careful planning and even courage
(at least it would for me)
to endure the ride in a tiny bush plane.
*
Sun and Water
- See how the Wilds cleverly harnessed the sun's power and rushing mountain stream in order to provide running water and electricity for their home.
I was simply amazed!
Volume 4 includes: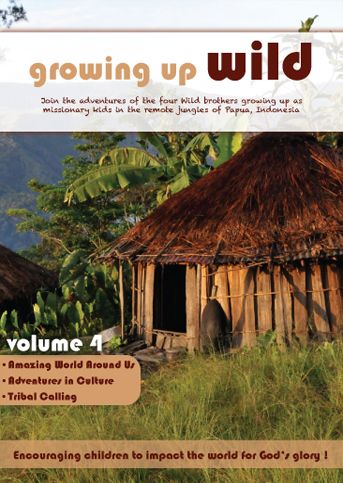 *Amazing World Around Us
- See all of the different kinds of creatures, like pythons and stick bugs, that live in the jungle. This episode focuses on God's amazing creation.
*
Adventure's in Culture
- See how the natives, the Wano people, of Papua live. This was definitely interesting since some of their customs are so different from our own. You won't want to miss the nose piercing of the septum for sure. Made my eyes water just watching!
*Tribal Calling
- See how icebergs, missionaries, and the body of Christ are alike and hear firsthand how the Wilds knew without a doubt that God had called them to Papua.
Each volume costs
$18.99
plus shipping and handling. Save 15% by purchasing all five for
$80.99
plus shipping and handling.
The activity guides are meant to be just that -- guides. The Wilds encourage families to tweak the activities to fit your specific group and environment. There's a lot of room for much creativity. Activities include things like: reading Scripture, exploring your surroundings, researching topics on the Internet, defining words, taking field trips, making crafts, completing worksheets, and more.
What we did: I incorporated some of the recommended Scripture reading into our morning Bible time together. My 10-year-old son tried to build a Wano hut, but he became a little frustrated that his poles wouldn't stay together. Last I saw it was in his trashcan. :( We all worked on the Culture Worksheets together which are provided in the volume 4 activity guide. With these worksheets you compare the Wano culture to your own -- type of clothing you wear, what your house is made of, how you travel, what you eat, and things like that. Most of the Wano culture boxes have been filled in, but an answer key is provided for the Wano blanks. It's really neat to see how other people in the world live.
This is just a sampling of what's offered in the activity guides. There are a lot of activities that revolve around creation and science, but because I am already heavy on the science side of homeschooling, we skipped those. 
I appreciate the Wilds sharing about their life and how God is using them to impact the world. Through Growing Up Wild, it is their heartfelt desire that this DVD series will spur others on to live for Christ and that God would receive all the glory. I love that their focus is on Christ alone. I love that they don't make anyone feel pressured into becoming a missionary or guilty for not being one. My desire for my own children is the same as the desire of the Wild brothers' mom -- "Whatever the Lord has planned for your life will be the best for you."

I really liked their iceberg analogy in the Tribal Calling episode. They said missionaries are like the tip - visible, and that underneath the surface is the main body of the iceberg - the support (the body of Christ). You'll have to watch to get all of the details!

My kids and I made our own icebergs with the help of the iceberg picture included in the activity guide. Since we are not on the foreign mission field, we personalized the iceberg to fit our family.


Our family was called to help with a plant church a couple of years ago, so our iceberg reflects this. My kids helped to fill it out and mentioned that the worship leader should be a part of the tip of the iceberg - I think they are kind of partial since that position belongs to their daddy! ;) I love that our kids have been a part of this church since the beginning. We meet in a school, so there is A LOT of work involved every week! There is so much more than what we put on our iceberg, but it was nice having a visual of where we all fit in.
Anyone and everyone
will be blessed by watching the adventures of the Wild family. Our whole family was captivated! Because of the activity guide that is included, these DVDs can be used alongside homeschool or Sunday School curricula. It's intended to be used with children ages 5-12, but like I said before, anyone and everyone will enjoy.
Disclaimer: As a member of the TOS Crew, I received this product, at no cost to me, in exchange for my honest review. All opinions are mine.