Pin It Now!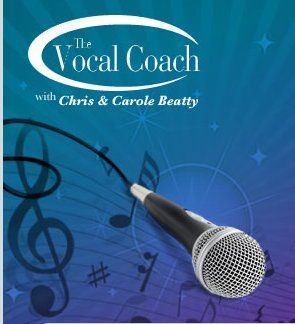 Have your kids (or you) ever wanted to take singing lessons?
Have you had to say no due to finances?
If you answered yes to the first or both of these questions then you might want to consider the
Vocal Coach
created and founded by Chris and Carole Beatty.
Chris and Carole Beatty, professional musicians, have a passion for training singers. They've been teaching and coaching singers of all ages for over 40 years! Whether you're a beginner or a pro, they hope to help you achieve all of your singing goals with their time-tested vocal training CD and DVD products for children and adults.
Vocal Coach
generously sent two of their products,
Teaching Kids to Sing
, and
Vocal Coach Singer
, to members of the Schoolhouse Review Crew. Our family received
Vocal Coach Singer
, the downloadable version.
What is Vocal Coach Singer?
Vocal Coach Singer
is a professionally produced instructional singing system that teaches and builds upon basic principles which are crucial to achieving an accomplished singing voice. This is a very thorough program that covers everything from proper breathing techniques to good posture and finding and expanding your range to performing confidently and consistently.
Vocal Coach
doesn't teach a certain style of music, instead it teaches you to apply everything you learn to any style of music. With much practice and dedication, you can learn to sing your best.
Vocal Coach Singer Includes:
(From the website)
7 Training CDs:
Getting Started
Complete Breathing
Complete Warm-Up
Complete Tone
Complete Expanding Your Range
Complete Diction
Complete Performance
4 Workout CDs:
Daily Workout High Voice 1 & 2
Daily Workout Medium/Low Voice 1 & 2
Plus these great educational tools:
Guidebook – Full-size Instructional Guidebook to Ensure Success
Printable Lead Sheets – each exercise in our course, plus track lists
Personal Singer's Journal (Getting Started Journal & Workout Journal) to Track Your Progress
Vocal Coach Song Evaluation – Evaluation form to enable you to make more intelligent song selections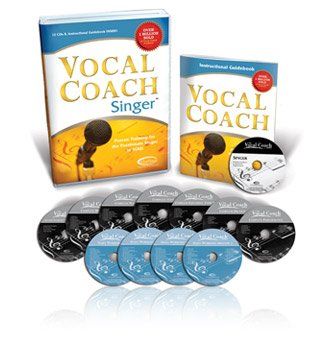 How much does a program like this cost?
Well, here's the good news -- you can purchase the
Vocal Coach Singer
12 CD package for just
$119.99
. For MP3s the cost is
$99.99
. This program provides the equivalent of over $2,000 worth of personal coaching time! This is such a great deal in my opinion and a great alternative to private lessons.
How did we use it?
Recently, our boys have shown an interest in music. Our 10-year-old bought an electric drum set, and my husband and I helped our 13-year-old purchase a keyboard. Because we can't afford professional lessons for both of them, they've been teaching themselves the best that they can via the Internet and library. While they are making progress, doing everything on their own can be frustrating and exhausting at times. So, it's been really great having the opportunity to review a product like
Vocal Coach Singer.
I figured my oldest might like to take singing lessons especially since he's trying to learn how to play the keyboard. I mostly accepted the review for his sake, but my other two children (ages 7 and 10) accompanied us during the sessions. After getting almost all the way through the program, I will say that it is probably best for middle school students and up, including adults.
(My younger ones had too much fun giggling over all the silly sounding "hee, hee, hee" breathing and "mee, may, mah, moh, moo" singing exercises.)
:)
We're definitely in the beginner category, so we took it a little slow. We'd spend about a week listening to each CD and putting techniques into practice. My kids were definitely surprised by all of the "work" that goes into singing. We even did the recommended exercises before each session -- for me it was a good excuse to squeeze some crunches into my day! When we got to the part where we learned about range it was a little challenging, well, because I wouldn't have known what to play on the keyboard! Fortunately my son had learned enough to help with that. Having a keyboard or piano handy would be helpful for this session if you don't already know your range and aren't familiar with terms like soprano, alto, tenor, etc.
We really didn't use the lead sheets or singer's journal the first go 'round. I wanted us to get a good feel for the program first, plus none of us can read music. The guidebook does provide a lot of constructive information like how to get the most from your training and how to take care of your voice. It also provides a picture of what your posture should look like, which was helpful. Definitely a great resource for the serious student! My oldest son says he wants to go back through the lessons independently.
Here's a quick look at some Pros and Cons:
Pros
More affordable than private lessons
Can replay sessions over and over again
Can work independently at your own pace
Don't have to feel embarrassed by singing in front of others
Cons
Don't receive any feedback
Can't know for certain if you are doing everything correctly
Can't ask questions during sessions
You can schedule an
online training session
if you do want additional help. All you need is a webcam and a phone or computer microphone. A 45-minute session costs $89.
Overall, I think
Vocal Coach Singer
is a quality product that is worth every penny. Now this is coming from someone who is
NOT
a singer
.
I am not sure if professionals would find much of the information too basic.
Hop on over to the
Schoolhouse Review Crew
and see what others had to say about
Vocal Coach
.
Disclaimer: As a member of the TOS Crew, I received this product, at no cost to me, in exchange for my honest review. All opinions are mine.