Pin It Now!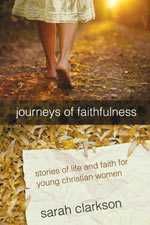 Apologia Educational Ministries, Inc.™
has been a part of my homeschooling adventure since the very beginning. My children and I love their science curriculum and continue to be amazed by each new book about God's amazingly fabulous creation! A few months ago, I had the privilege of reviewing Apologia's,
I Don't Have Enough Faith to Be an ATHEIST,
which I found extremely interesting and very informative. Because I have been impressed with Apologia's outstanding, quality products so far, I didn't want to pass up on this present opportunity to review
Journeys of Faithfulness
by Sarah Clarkson.
And let me just say, I am not the least bit disappointed!
Even though these are "stories of life and faith for
young
Christian women," I enjoyed them just the same. I am not really a young woman anymore, but the book
is
suggested for girls ages 12 and
up
. ;)
Sarah Clarkson has a way with words. She uses her sanctified imagination to transport the reader to places and times past. Historical fiction happens to be one of my favorite genres, so this book/devotional was quite a treat. Journeys of Faithfulness could be called "Biblical Fiction," I guess. The characters and settings are very real while the intricate details are imagined.
Sarah zeros in on 5 familiar and faithful women of the Bible, and the parts of the book are divided as such: Mary & Martha; Mary, the mother of Jesus; Esther; and Ruth. In each part, Sarah immediately draws you in to the scene surrounding a specific character and event. She crafts an imaginary story incorporating details and spoken words of the true Biblical account. As I was reading, I felt truly connected to these ordinary yet courageous women; I felt that I could relate to them on a deeper level. They became REAL.
Not only did I feel connected to these women of the Bible, I felt connected to the author as well. There are 3 chapters in each part of the book, and after each chapter (12 in all) Sarah shares her heart in a devotional. She relives past experiences and gives insight to truths she's gleaned from walking the road of faith. The devotionals after each chapter were probably my favorite part of the book. I love hearing how God works in other people's lives. Sarah's transparency is comforting. I loved the Courageous Beauty devotional, it really spoke to my heart. Thank you Sarah! I realize we women are all so much alike -- we're all diamonds in the rough being cleaned, cut, and polished by our Heavenly Father until we reach our full sparkling potential!
After each devotional is a Bible study. There are a few verses to look up and ponder, and there are also questions for the reader to answer following each verse. The questions relate back to the previous story.
Following each Bible Study is a Journey Journal, a place for the reader to record her own personal thoughts and reflections.
So, to recap, there are 4 sections in each chapter: Story, Devotional, Bible Study, and Journey Journal.
View the Table of Contents
for
Journeys of Faithfulness
.
Read a sample chapter
, Learning to See, about Mary and Martha.
I would highly recommend
Journeys of Faithfulness
for moms and their daughters and any other young women for that matter. I think it would be really sweet to go through this book with my daughter, however, she's only 7, and I feel she's just too young yet to appreciate the depth of this book. I have been reading it by myself
(I am almost done!)
trying my hardest not to underline or highlight anything because I want to save it for my daughter for when she's older.
Journeys of Faithfulness is precious and delicately feminine, yet strength, honor, faithfulness, and courage are character traits that serve as the backbone of this book. It's the perfect combination for modern day girls who desire to walk in a manner worthy of the gospel.
This softcover book retails for
$13
, and would make a great Christmas gift for all of the lovely young ladies in your life!
Disclaimer: As a member of the TOS Crew, I received this product, at no cost to me, in exchange for my honest review. All opinions are mine.