Pin It Now!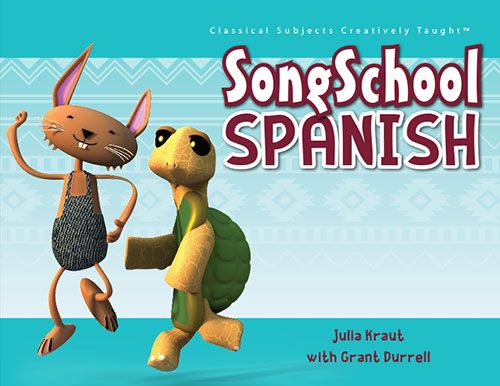 My daughter had one subject left for the day. As she slid her books across the table, she sighed and said, "Ah, my faaaaavorite subject!"
Any guesses as to what that subject happened to be?
If you guessed Song School Spanish, you are correct!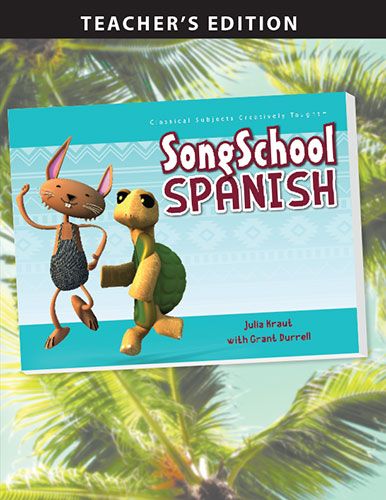 Classical Academic Press
sent my 7-year-old daughter and I their
Song School Spanish
curriculum which includes one student workbook, a song CD, and a teacher's edition.
Song School Spanish
is perfect for younger children in grades Kindergarten through third. With the help of two animated friends, Tortuga and Conejo, (the tortoise and the hare) children will be gently introduced to Spanish through vocabulary words and phrases, songs and chants, and fun workbook activities and exercises.
Though this curriculum is not a "full immersion" approach, it has been designed to lay a foundation of strong Spanish vocabulary capitalizing on children's amazing ability for memorization. Also, children will be comfortably introduced to a few Spanish grammar rules such as gender agreement and singular vs. plural in order to prevent frustration when translating short phrases.
Student Workbook and Song CD
The student workbook contains 31 simple weekly lessons which includes 6 review chapters. In this course, your child will learn the Spanish alphabet and over 100 everday vocabulary words having to do with common greetings, food, animals, numbers, seasons, weather, family, body parts, and more.
Each chapter begins with
Words/Phrases to Learn
. Except for the lesson on numbers, there are always less than 10 words/phrases to learn, so it's not overwhelming at all.
Following words/phrases are chapter songs/chants, workbook pages, and activities. Chapter songs/chants are found on the CD included in the back of the student workbook. There are over 40 songs featuring the vocabulary words/phrases learned in each chapter. The tunes are catchy, and singing along is easy. This is a great way to reinforce what's been taught. Plus, it makes it fun for young children.
My daughter likes to march around the living room while singing and chanting her Spanish, and sometimes we even empty the dishwasher together while listening to the CD.
Workbook pages and activities include tracing Spanish words and phrases, circling correct words, translating from Spanish to English, drawing pictures, making puppets, matching pictures to correct words, reading stories, and more. Simple, but cute black and white illustrations included throughout the text add appeal.
My daughter hasn't complained once about any of the activities. She really enjoys them.
View Sample Chapters now.
Cost:
$24.95
Teacher's Edition
The Teacher's Edition contains the complete
Song School Spanish
student text with answers and extra teacher's notes. It also includes additional activity pages - one activity page for each chapter, two pages for the review chapters, and a four-page, end-of-book review. Answers to these pages are included also.
View Teacher's Edition Sample now.
Cost:
$24.95
(A
Song School Spanish
Bundle is available for purchase as well. It includes the student text, teacher's edition, CD, and Spanish Amigo Match Flashcard Game.
Cost:
$66.95
)
Additional Supplemental Resources
Spanish Amigo Match cards: These cards feature over 100 Spanish vocabulary words with matching English translation cards. The deck can be used as flashcards for extra practice, or it can be used to play several different games. It comes with instructions to 3 different games - Memory, Go Fish, and Carrot Top (Old Maid). Cost:

$26.95

Spanish Pronunciation Files: You can hear the Spanish vocabulary words and phrases pronounced correctly by downloading MP3 files on the Song School Spanish product page. I like for my daughter and I to listen to this before we start each new chapter.
Extra Songs: In addition to the songs on the CD, you can find more songs to download on the Song School Spanish product page.
Ask the Magister/Maestra: If you have questions about the text, you can seek help from other Spanish teachers by clicking the "Ask the Magister" link on the home page under "Important Links."
HeadventureLand.com: This is a support website for kids where they can practice what they've learned by playing an online game called FlashDash. Here, kids will be able to review Song School Spanish vocabulary chapter-by-chapter. They can also compete for monthly high scores with other kids from around the world. My daughter loves to visit this site several times a week! Not only does she play FlashDash on a regular basis, but she's watched all of the Tale of Two Princesses Latin videos. She also found over 100 Spanish coloring pages under "Extras." Headventure Land is really a great tool.

How We Use Song School Spanish
There is a suggested 3-day schedule in the book, however, because my daughter loves it so much, we do
Song School Spanish
every day. I like this schedule because it makes the lessons short and sweet. We spend about 10-15 minutes per day on Spanish, and that includes listening to the songs.
Usually, my daughter completes an entire chapter in 3-4 days. She is always eager to begin a new lesson. On day one of a new chapter, we listen to the new vocabulary words being pronounced correctly from the Spanish Pronunciation Files I downloaded from the website. We also listen to the chapter songs/chants.
For the next two to three days, my daughter completes all of the activities within the chapter. Because she is in second grade, she can do the workbook pages on her own. A child in Kindergarten or first grade might need more help, especially if he/she can't read yet. My daughter also likes to listen to the CD everyday. She'll sometimes listen to all the songs she's learned so far or pick and choose her favorites.
Before moving on to the next lesson, I make sure she knows all of her vocabulary words and phrases. She is already almost finished with the 6th lesson. This is definitely a subject we will continue for the rest of the school year!
Her drawing of la maestra, which is me of course! Love that she surrounded me in hearts. :)
Her Conejo and Tortuga puppets

I am pleased to be able to highly recommend Song School Spanish to parents who want to give their elementary aged children a strong foundation in Spanish basics without becoming overwhelmed by too many rules. It's more about having fun while learning and building within your child the desire to learn more.
Click to read
more reviews
from the Schoolhouse Review Crew.
Disclaimer: I received a free copy of this product through the Schoolhouse Review Crew in exchange for my honest review. I was not required to write a positive review nor was I compensated in any other way. All opinions I have expressed are my own or those of my family. I am disclosing this in accordance with the FTC Regulations.