Pin It Now!
Welcome to Day 5 of Teaching Kids to Read!
I didn't start formal spelling until my kids were in first grade even though they could all read pretty well by then. Again, at least in my experience, I found that learning to read came much more easily than learning to spell.
When my firstborn son started first grade I began the program Spell to Write and Read (SWR). I know it sounds confusing that I'd choose this spelling curriculum when my child could already read, huh? I will do my best to explain. (And I will also explain why I am including this in my teaching kids to read series, so stick with me!)
Phonics was extremely important to me as I was teaching my child to read, so I wanted a spelling program that taught children how to spell phonetically. In my research and conversations with some homeschooling friends, I ended up settling on Spell to Write and Read by Wanda Sanseri.
I liked the approach that a word is spelled a certain way for a reason, and with SWR, very few "exception-to-the-rule" words or "sight words" are taught. The English language, just like any other language, does have a few exceptions, but not as many as you may think or have been taught to think. I certainly remember learning all those "exceptions" don't you?
I also love that I can tell my children exactly why a word has a silent e or why we drop the e in the word changing but not in changeable. I love that I can tell them exactly why we use the phonogram ai in the middle of a word and why we use ay at the end of a word. And the list goes on and on. If you want more from a spelling curriculum than just mindless lists that have to be memorized, you might want to give SWR some serious consideration.
Spell to Write and Read
is basically the Teacher's Manual designed to accompany
Wise Guide for Spelling
which contains organized spelling lessons. You need both books to effectively use the program. SWR explains how to teach all of the spelling rules and guides you through some of the assignments that are given in Wise Guide.
Besides spelling, this program covers penmanship, reading, composition, dictionary skills, and grammar. It also "paves the foundation for improving comprehension and building vocabulary. It clarifies our spelling dictation techniques and explains in depth the "thinking to spell" process.
Now, I will say this: SWR is an intense spelling program. It was a lot to absorb and process at first. I spent many days reading and figuring it out before actually starting. This is a program that you do with your kids, so it does take up your time. Once I jumped in and started the lessons, it all fell into place. I established a routine and made it work for us. I didn't always do ALL of the assignments for each lesson, and I often spent 2 weeks on one lesson instead of 1 week. It takes work, but it's also very flexible.
I am glad I stuck with it! I feel it really is a quality spelling program. I am still right in the middle of it with my last child, and my sixth grader is almost finished. Yea!
Why? Because this program can be used for about 4-6 years depending on how quickly you and your child move through the lessons. This program is a go-at-your-own-pace program. No pressure to advance to the next lesson until your child is ready. So, when you think about it, that's like only spending about $20/year on spelling. Since I have used it with all 3 of my kids, the price has been well worth it!!
The entire kit includes:
Spell to Write and Read Book

Wise Guide for Spelling Book

70 Basic Phonogram Cards

28 Spelling Rule Cards

Phonogram CD
Why I Included Spell to Write and Read in This Series
It is intended to be used to teach kids to read, but for me, it's mostly because of the handy dandy phonogram cards. With my second and third children, I was able to use these cards right along with Happy Phonics. The phonogram cards include all of the single letters of the alphabet, 2-letter phonograms, and 3 or more letter phonograms. The front of the cards shows the phonogram and the back explains the sounds, gives examples of words, and gives further instruction if necessary. I LOVE these cards!
Also, there are 11 steps in SWR that you can follow before you begin the regular spelling lessons in Wise Guide for Spelling. So, if you plan to use this program, you may want to get it before first grade. You can use this program exclusively to teach your kids to read, but since I already had Happy Phonics, I used both.
While I really like this program, I kind of did it backwards. I liked teaching my kids to read before they could spell. Just my preference, but obviously the intended purpose of this particular program is to teach your kids to spell to write and read.
I really hope this series has been helpful. Feel free to ask any questions! If you missed any of the other articles in this series, you can see them by clicking the following links:
Also, don't forget to check out the rest of the articles from the Schoolhouse Review Crew!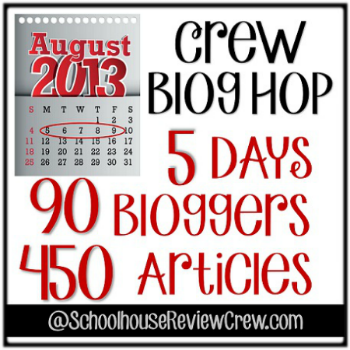 {affiliate links included}