Pin It Now!
As a member of the Schoolhouse Review Crew, it's been such a privilege for my children and me to have been exposed to so many different foreign language courses over the years. When I saw that
Middlebury Interactive Languages
was offering a full semester's worth (six months) of language learning in Spanish, German, Chinese, or French, I jumped at the chance for my 4th grade daughter.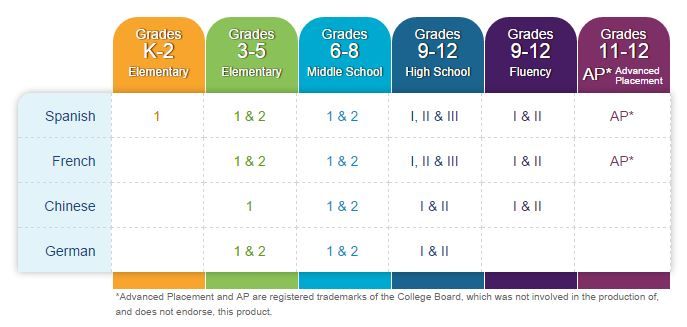 For an overview of how
Middlebury Interactive Languages
operates
, you can watch a brief video below. If you don't want to enter your email address to watch the video, click "skip" in the bottom right-hand corner.

Overview of Elementary German 1, Grades 3-5
Elementary German 1 for grades 3-5 provides stress-free, self-paced introductory coursework that covers the basics. The program uses an interactive, immersion approach that concentrates primarily on vocabulary achievement although grammar principles can be understood through the various stories, songs, and activities. Your child's initial exposure to the German language is truly easy and fun.
At a glance, here's what your child learns in the first semester:
Sounds and rhythms of German
600 vocabulary words
Aspects of German culture
How to begin to read, write, and speak in German
How to identify unique practices and products of German speaking countries
How It Works
After you receive your log in information, you can begin lessons right away. You can access lessons by clicking on the menu icon (4, white, horizontal lines) and then choosing the Calendar tab or Table of Contents tab. Within the Calendar, you click on a day with the appropriate scheduled lesson and then click the play button to view the lesson playlist. Since I don't necessarily follow the exact schedule on the calendar, I prefer to use the Table of Contents which I will explain further in the next screenshot.
Make sure to watch the brief Welcome video first, but after that you can click on
Unit 1: Family
to begin your lessons. You can see in the screenshot below that there are 6 lessons in Unit 1. When you click on the
Lesson 1 folder
and then the
U1L1 folder
, you will see 7 activities to complete in the order in which they are presented. As you work through each activity, a green check mark will appear in the box upon completion.
Units/Lessons
There are 8 units in this first semester course: Family, Numbers, Greetings, Adjectives/Feelings, Food, Hobbies/Professions, and Body. Each unit features 6 lessons except for the last unit which is a review that is broken down into 3 lessons covering units 1-3, units 4-5, and units 6-7. (45 lessons total.)
Each unit begins with a brief introduction video, objectives, and a story video that is narrated entirely in German. Following are interactive activities such as learning new vocabulary words from the story by clicking on images, matching words to the correct pictures, practicing speaking the words by either saying them out loud to someone or recording them. If you want to record yourself speaking, you will need a microphone for your computer. Since I am sitting with my daughter during German, I have her say the words out loud to me. I haven't bothered to hook up a microphone yet.
Format
You can see in the above screenshot (Table of Contents Examples) that Lesson 1 introduces Family 1 vocabulary words and ends with the Speaking Lab. Lesson 2 begins with review, practice, and speaking lab with vocabulary words already learned. After that, there is a quiz. The rest of lesson 2 introduces new vocabulary words (Family 2), and the process begins all over again. Lesson 3 reviews both Family 1 and Family 2 words and has another quiz. In Lesson 4, you explore German culture and families and learn some new phrases. You listen to a song in Lesson 5 and learn more German family phrases. Finally, in Lesson 6 you view a unit summary, print the unit story and vocabulary words, and take a vocabulary test and a speaking test. Basically, this is the format each unit follows.
Grades
Middlebury Interactive Languages
keeps a record of all quiz and test scores. You can access grades to your quizzes and tests under Gradebook in the dropdown menu. See first screenshot under "How It Works."
Activities
Below, you will find some samples from the activities in Elementary German 1. Even though I already touched on the types of activities and the format the lessons follow, I wanted you to see for yourself how simple and inviting they are.
All instructions have a sound icon that you can click if you want them read out loud. This feature is great for kids who are unable to read them on their own yet. Instructions are spoken in English without a German accent, however, German vocabulary words are spoken by natives.

How We Use It and Our Opinion

My daughter and I are thoroughly enjoying this German course. My daughter says it's one of her favorite products that we've reviewed over the years. We typically do one lesson per day four times per week. (The standard pace for the elementary course is 2-3 days per week.) Lessons don't take that long, about 15-20 minutes at the most. We've just started Unit 4 and are looking forward to the rest of this course!

I like that it is self-paced and easy to use. Truly, my daughter could do the program all by herself no problem, but I like learning German, too! If I wasn't sitting beside her, I would want to utilize the recording option for the Speaking Lab that I mentioned earlier.

We both love listening to and watching the video stories read aloud in German. It's so neat being able to hear what the language sounds like as a whole instead of only in parts. Though we can't understand most of what's being read, vocabulary words from the lesson appear in the story. After you learn the new words, you get to listen to the story again. Later on, you will even have a chance to print the story in German with an English translation beside it.
It's also nice that we are able to print vocabulary words and other phrases we learn throughout the lessons. We keep the pages in a folder for easy reference. They are great to have handy for review, too. Know that you can always go back to a lesson and listen to it again if you want to.
We did encounter one issue when we started the Numbers lesson. The pronunciation of the number 2 in German (zwei) was a little unclear. Based on my knowledge of how a W should be pronounced in German, I had a good idea of how it should sound, but my daughter wasn't convinced. The W was sounding more like a P than a V. Fortunately, a friend from church who knows German confirmed the proper pronunciation for us. :) While there are some German words that are difficult to pronounce, this is the only time so far that we've run into a problem with understanding pronunciation.
Cost
There are two options for purchasing this course:
Without teacher -

$119

for one semester per child
With teacher -

$294

for one semester per child
We did not have teacher support, so I can't really say from experience how that works.
I highly recommend Middlebury Interactive Languages! We love it, and I would totally purchase the next semester if I could. Check out other courses and what Schoolhouse Review Crew Members had to say by clicking the banner below.