Pin It Now!

I confess: I've never read the Little House on the Prairie novels, but I did grow up watching the TV show. Except for one children's picture book that our family owns, A Little Prairie House adapted from the Little House books, my own children really don't know much about Laura Ingalls Wilder or her Little House on the Prairie. Kind of sad considering they've watched other classic shows from the past like Andy Griffith, Father Knows Best, and currently Bonanza. (It's mostly my middle son who's on a Bonanza streak.)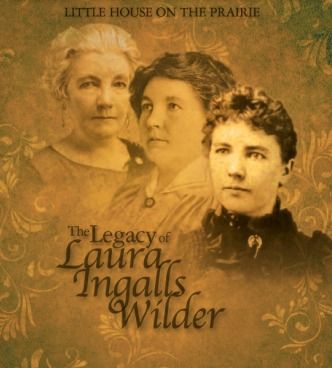 Every time I mention, "What about
Little House on the Prairie
?" I'm met with half-hearted grunts and shrugging shoulders. Maybe my boys think the show sounds too girlie, and maybe my daughter's just too young and unknowledgeable to have a preference. I'm really not sure, but my hope was that by watching this DVD, it might spark some interest. Since my hubby and I
love
to watch interesting documentaries, we made a Friday night of it and munched on fun snacks while watching the DVD as a family.
Whether you're a die-hard or casual
Little House on the Prairie
fan, you are in for a real treat when you watch
The Legacy of Laura Ingalls Wilder
, a documentary about a woman who truly defined and illuminated the American experience. For one hour, through impressive cinematography, original paintings from frontier artists Harvey Dunn and Charles Russell, reenactments, and a pleasant musical score, you will be transported to the real world of Laura experiencing for yourself "the places she lived, the people she loved, and the past she brought to life."
Much of the documentary focuses on Laura's life as a writer and the many tragedies she endured as an adult. Though she experienced much hardship, she seemed to greet life with a positive attitude and felt that hard work and sacrifice could make the best of things.
For some reason, I'd always thought that Laura's stories and later the TV show were based upon journals that she'd kept as a child during her family's travels in a covered wagon. Well, that's simply not true. I learned that she didn't begin keeping a journal until much later when she and her husband, Almanzo, moved to Mansfield, Missouri in 1894, and that she eventually became an intentional author.
I also learned a lot of other interesting facts about her journey to becoming an author. Did you know it all started
(if you don't count keeping a journal)
with a speech she wrote about raising excellent egg-laying chickens? She eventually found herself writing a column for a newspaper and then novels for publishers for which she is so well known. Her novels made her popular and are still enjoyed today because they speak of courage, hope, and love - universal themes to which we can all relate, and tell "what life was like and what it could be like."
By watching the documentary, you can find out all of the juicy details surrounding each and every novel she wrote. You will also discover that her journey as an author wasn't always a bed of roses due to many ups and downs, disappointments, and relationship struggles with her daughter
and editor
, Rose Wilder.
Our whole family enjoyed watching
Little House on the Prairie: The Legacy of Laura Ingalls Wilder.
Even my 8-year-old daughter sat through it, but if I had to suggest an appropriate age level, I'd say it is best for ages 10 and up. In my experience, most young elementary kids aren't super jazzed about watching documentaries.
This quality DVD is great for homeschoolers, collectors, and anyone who has been touched by Laura's
Little House on the Prairie
stories. In addition to the documentary, the DVD features a few extras: Director's Diary (the making of the documentary), Almanzo Wilder: Life Before Laura Trailer, and Pa's Fiddle: The Music of America Trailer. Add this treasure to your DVD collection for
$24.95
.
I can certainly tell you that my daughter can expect her next mama/daughter read-aloud to be
Little House in the Big Woods
! Which Little House books have you read?