Pin It Now!
Recently, my daughter had her very first sleepover, and I wanted to make it as special as possible. With the busyness of life, I couldn't exactly go ALL out or anything, but we made some fun fairy-themed food and watched Disney's Secret of the Wings. For the next 5 days, I will be highlighting several different fairylicious foods!
First up is Pixie Popcorn since I needed a P Post for Ben and Me's Blogging Through the Alphabet. :)
Pixie Popcorn is a spinoff of the
Peppermint Bark Popcorn
I make at Christmas time. Here's what you need to make
Pixie Popcorn:
1/2 cup unpopped popcorn or approx. 16 cups popped corn (I don't measure once it's popped)

2 cups white chocolate chips

1/4 - 1/2 tsp. vanilla

a dash of salt

Girly colored sprinkles (We used pastel sprinkle balls and hot pink sugar crystals)
*
Pop 1/2 cup of corn kernels. Melt white chocolate chips and stir in vanilla. Using your largest bowl, pour popped popcorn and melted chocolate into the bowl and gently stir coating evenly. Add sprinkles for a fairy festive touch. Pour popcorn mix onto waxed paper or foil and let harden. Break off pieces and enjoy!
P is also for Pixie Pancakes!
Click here for recipe
. :)
For my first fairy food post, I am participating with :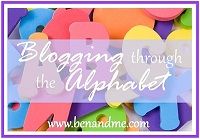 Be sure to check back tomorrow for more fairy food fun!