Pin It Now!
Um, my middle son really likes root beer
in case you didn't notice
. ;) Today, he wants to share 4 tips and a song with all of you!
Grab your kids and listen to this fun song created by my son, Lincoln. Stay tuned next week for a
Soda Song Challenge
in which he will need your help!
Thanks for listening. :)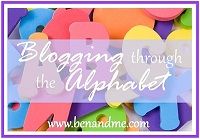 Linking up with Ben and Me - Blogging through the alphabet.