Pin It Now!
What is KinderBach™?
KinderBach™
is a music curriculum developed by
Karri Gregor
for children ages 3-7. Children learn to play the piano while acquiring a general music foundation. Through child friendly characters, Miss Karri teaches basic concepts such as music vocabulary, music theory, physical technique, note reading, rhythm, singing, and music composition.
KinderBach™ Online Piano Lesson Membership
With membership, you have access to 6 levels of music education taught by Miss Karri through web video lessons. There are 10 weeks of lessons per level, and there are 4 video sessions per week. So, that's a total of 60 weeks and 240 sessions which gives children about 22 hours of instruction! You can conveniently watch these lessons on your computer, iPad, Kindle Fire, Nook, or Android Tablet.
You also have access to all of the downloadable activity pages (in PDF format) that accompany each lesson plus online extras such as coloring pages, story books, and song books.
Since you may not and don't need to have a formal education in music to use this program, a helpful parent guide is included to give you all the instruction you need to make
KinderBach™
a success for your child. The guide contains the following information:
Six areas of music development
List and description of products and materials in the online piano membership
List of supplies needed for the program
Step-by-step instructions for how to use the curriculum
Overview of Music Theory (notes, beat, composition, vocabulary, etc.)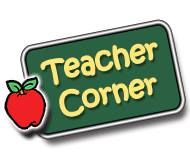 Finally, you have access to
Teacher Corner
. This is the place where you can download lesson plan books, teacher aid books, student books, and audio MP3s for the first 5 levels. Level 6 says "coming soon." Level 1 has a couple of extras: Level 1 Goal Book and Level 1 Certificates. This feature is really great if you are planning to teach a group of students. If you are only using the program for one child like me, you can conveniently print student worksheets from the student book as you work through the lessons.
So, How Much Does a Membership Cost?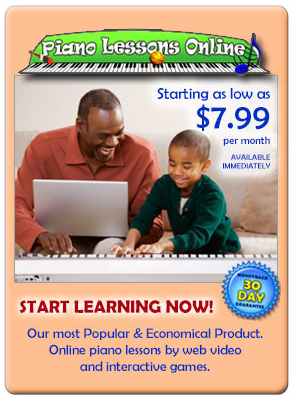 Surprisingly, the
KinderBach™ Online Piano Lesson Membership
is pretty budget friendly - definitely less expensive than private lessons. Right now for a limited time, you can purchase a one-year membership for
$95.88
. That's just
$7.99
per month! Usually, it costs $130 per year.
What's more? You get to try before you buy! You can view the first 2 weeks free of charge. The free lessons will be sent to you by email. I signed up before I actually received my membership. It's super easy.
Miss Karri's Web Video Lessons
Once you log in to your account, you can begin your online piano lessons. Each week begins with an introduction in which Miss Karri lets you know what you and your child will learn and the supplies (besides a computer and a keyboard or piano) you will need. Most of the time, the supplies are simple, everyday items such as crayons and rhythm instruments. Sometimes your child will need scissors and glue, too. Rhythm instruments don't have to be anything fancy just so long as your child can use something to keep a beat. We often use colored pencils as our rhythm instruments.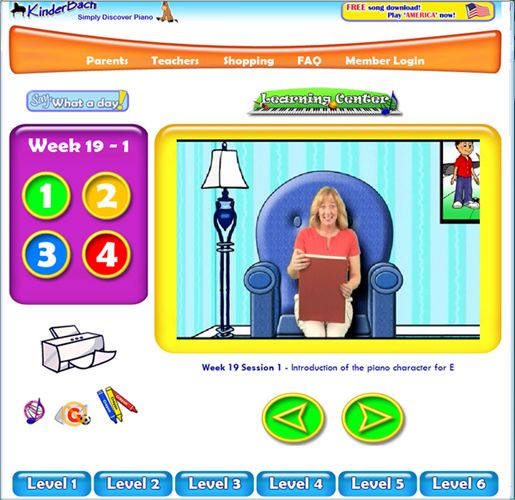 When you've gathered all of your supplies, you can hit play. Miss Karri enthusiastically teaches in brief chunks - perfect for young ones! Sessions in Level 1 seem to run for about 5 minutes or less.
Medley of Characters
Miss Karri creatively instructs children through the use of likeable characters,
Frisco and his Piano Pals.
Basically, she has created an imaginary world in which the piano keyboard is home to Frisco's toy animals: Dodi the Donkey, Clara the Caterpillar, Edward the Eagle, Felicity the Frog, Gracie the Gorilla, Alan the Alligator, and Bob the Bear. Your young child can learn and remember the notes on the keyboard by associating them with these fun characters. All of these characters have their own personalities and unique background stories, and each one corresponds to a note on the piano. Focusing on one character/note at a time helps keep young children from getting too overwhelmed.
Other entertaining characters that tell stories, play games, and reinforce concepts are the Beat Bugs, Football Fingers, Bruno, Miss Diddle, Jake (a real Golden Retriever), and more.
Activity Books
Each level comes with a downloadable activity book. These books can be printed all at once or one page at a time. Before each session starts, you can click on the printer icon and print the activity page needed for that particular session. Worksheets are interactive and are designed to be used during the lesson.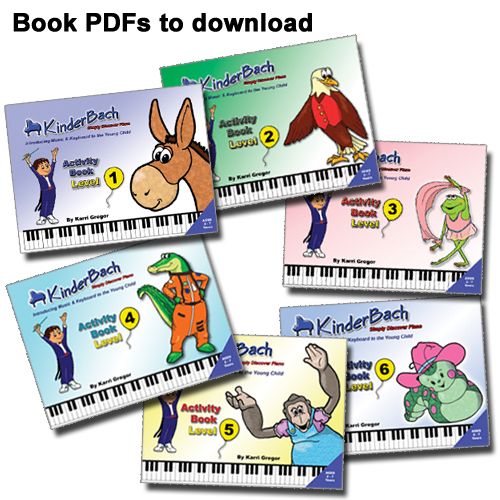 How We Used KinderBach™ Online Piano Lesson Membership
Well, my daughter didn't waste any time getting started since she is really eager to learn how to play the piano! She'd had her brother's old keyboard in her room for a few months but asked me to take it out before Christmas to make room for other things. She didn't have a way to learn how to play the piano yet, so the keyboard was just taking up space and collecting dust. So under my bed it went. But, it didn't stay there long due to the opportunity to review this program. :) So out the keyboard came. And now I have it set up in my room which is currently where she is taking her online piano lessons.
Because of my daughter's age (she's 8), she's been able to move at a pretty fast pace. Most of the time, she completes a week's worth of lessons in one day. Since we do music Monday - Thursday, she usually gets through 4 weeks in 1 week.
During Level 1, I had her watch each lesson in its entirety and complete most of the activity pages even though much of the material is better suited to younger children. I wanted to make sure we didn't miss any foundational instruction that she'd need down the road.
Once we moved on to Level 2, I let her skip much of the repeated instruction and coloring activities. Repetition and coloring are great for little ones, but I could tell it was frustrating my daughter. I even stopped printing most of the worksheets and instead pulled them up on my laptop so the activity page and video lesson were side by side. I did print song pages and pages with notes that she could practice in between lessons like the one pictured below.
Presently, my daughter is working through Level 3 and has been introduced to four of Frisco's toy characters: Dodi the Donkey, Edward the Eagle, Clara the Caterpillar, and Felicity Frog which means she knows the keys D, E, C, and F. The D note is taught first as it is easiest to recognize on a keyboard. Other concepts she's learned so far include:
Distinguishing between high and low sounds
Vocabulary words - Piano and Forte
Quarter (Walk) notes and their beat value
Half (Standing) notes and their beat value
Eighth (Running) notes and their beat value
Hand placement on keyboard for keys D, E, C, and F
How to play "Hot Cross Buns" and part of "Mary Had a Little Lamb"
Our Opinion
I think these online piano lessons for young beginners are wonderfully creative! I've never really paid any attention to which notes were where on a piano, but I can tell you that even I will never forget where the notes are after watching Miss Karri teach. :)
I do want to stress that this program is tailored to very young children. After going through all of levels 1 and 2 and part of level 3, I would personally recommend it for children in preschool through first grade at the most even though the suggested age range is for children 3-7. My daughter is 8 and in third grade, and even though she's a beginner piano player, she really needs something a bit more challenging to keep her interested. We now skip through a lot of the videos that repeat simple concepts, and my daughter doesn't do the coloring/gluing activity pages anymore.
Having said that, though, there are some features of
KinderBach™
that my daughter really likes. She likes story time when Miss Karri introduces new characters, the Beat Bugs, and especially the opportunity to play the piano.
One aspect of the program that I think is neat is composition. Children are able to compose their own songs by cutting out note patterns using the notes they've learned. They can arrange the note patterns however they want to create their "own song." For beginners, this is a great exercise for practicing eye/hand coordination. Plus, it boosts confidence and makes them feel like they are really accomplishing something! The following very brief video shows my daughter demonstrating composition.
Before I close, I would like to point out that every so often, we had issues with sound quality and video quality. Sometimes, I had to turn up the volume all the way in order to hear Miss Karri clearly, and when I enlarged the videos to full screen, they appeared a little blurry. These issues are pretty minor, and I still think it's a good program.
If you do have children in preschool through first grade,
KinderBach™
is a
super fun
option for introducing them to music while learning to play the piano. Remember: lessons are brief, they integrate simple coloring and gluing activities, and include lots of repetition. It's a stress free program for both parents and little kids!
If you'd like to learn more about how this program works at home, you can watch a
short video
on the website. And don't forget to sign up for the first 2 weeks free of charge!
Social Media Links
Facebook:
www.facebook.com/kinderbach
Facebook for Teachers:
www.facebook.com/classroomkinderbach
Twitter: @KinderBach
Pinterest:
https://pinterest.com/KinderBach/
YouTube: KinderBach Preschool Piano