Pin It Now!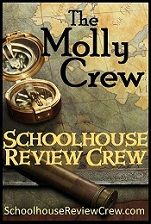 Coil-bound, glossy cover
(100 pages)
$17.99
E-book version
$14.99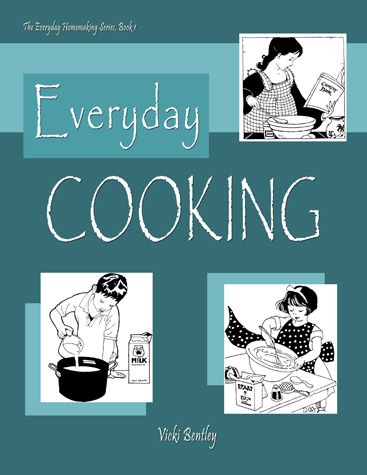 ,
If there's anyone who knows what it's like to be a busy mom, it has to be Vicki Bentley, author of the cookbook,
Everyday Cooking
. I was absolutely astonished when I read that she is the mother of 8 daughters and foster mom of over 50 children. And get this, she homeschooled 17 of them. Now that's what I call
BUSY
!
I am inspired by this godly lady to be a better mom, and I feel privileged to be able to review her cookbook. It was worth it just for the Neiman-Marcus $250 Cookie recipe!
(I will get to that later, though.)
Everyday Cooking
is chock-full of time-tested recipes with an emphasis on incorporating whole foods into your diet. Although there is an emphasis on whole foods, I wouldn't call it a whole foods cookbook. This cookbook is very versatile and can be used by anyone whether you are into healthy eating or not. For some of the unhealthy ingredients such as white sugar and other processed foods, there are suggested alternatives.
Vicki personalizes her cookbook with tips on making some of the recipes healthier, choosing cookware, baking homemade bread, planning meals, and saving time. I really enjoyed reading about using and purchasing a grain mill as this is something I would love to have one day.
Recipes are grouped into the following categories:
Appetizers and Dressings
Breads and Grains
Main Dishes, Soups, and Sides (blue boxes throughout with tips)
Desserts and Snacks
Tips and other information are grouped into these following categories:
Basic Measurements and Helps (tips on oils, preservatives, sweeteners)
Meal Planning and Shopping Hints
Kitchen Accessories
Kitchen Equipment: Grain Mill, Mixers, Cookware (some pictures provided)
Information on Slow Cookers vs. Pressure Cookers
Suggested Resources
Index
Besides recipes and helpful tips, the cookbook includes reproducible menu form pages, and a basic cooking skills checklist. One menu form has enough room for a month of meal planning. I am happily using the forms and have them hanging on my fridge. The basic cooking skills checklist was created for Vicki's daughters and independent living class students. There are over 60 listed skills - the following screen shot shows an example.
Recipes We Made From Everyday Cooking
Fruit Juice Knox Blox
This was a super easy recipe that my daughter was able to help me make. It was just okay, but I think that was my fault for not using a sweeter juice. Two out of three of my kids liked it, and I did eat some, too. :) It's great for snack time!
Russian Teacakes
I made these for a family get-together. The dough was a bit tough to form into balls, but they turned out fine. My middle son and I ate our fair share for sure!
Jim's Tex-Mex Dip
Wow, this was a real hit at our house! What I loved most was Vicki's tip on how to make your own healthier version of nacho cheese, an ingredient in this dip. My oldest son and I added a few more spices to the recipe to give it a little more flavor. It was very delicious.
Barbecue Sauce
My amusing middle son likes barbecue sauce, so he made this recipe all by himself. It's a little on the sweet side, but he loves it, especially on chicken.
Red Wine Vinaigrette
We like to experiment with making our own healthy salad dressings, and this one is simple, light, and tasty.
"Neiman-Marcus $250 Cookies"
This is definitely my favorite recipe we made! I don't think my family will ever let me make normal chocolate chip cookies again. We shared some with friends, and they loved them, too. It made a lot of dough, so I was able to freeze some for later. Also, the original recipe calls for lots of nuts, but I made some with nuts and without nuts. In one batch, I even added shredded coconut which was very yummy.
When it comes to my everyday cooking, I really don't follow a lot of recipes, and I already make quite a few of my own seasoning mixes. It's so nice, though, to have some fresh recipes on hand to add to the mix! I think I counted close to 160 recipes in this cookbook. Here are some others that I haven't made but look forward to making in the near future: House Salad Dressing, Sweet Rolls, Dinner Rolls/Sandwich Buns, Bekah's Blueberry Buckle, Do-Ahead Coffee Cake, Easy Pizza Dough, Red Beans and Rice, Spaghetti Sauce, and Fajita Marinade . . . just to name a few.
Overall, I like
Everyday Cooking
and have very few complaints. I like the variety of choices and all of the personalized tips. The menu forms are handy, and I will definitely go back to her grain mill tips once I am ready to purchase a grain mill for myself. However, I wish there were more pictures of the recipes - I am very visual when it comes to cookbooks! Also, never having viewed a cookbook as an e-book, I didn't realize that it would be a little inconvenient scrolling through recipes instead of being able to flip through pages. It's really not that big of a deal, though, just a personal preference, I guess. As I find a recipe I might like to try, I print that particular page and then keep all the pages together in a folder which works just fine.
Take a moment to
meet Vicki
and check out her website! Her website,
Everyday Homemaking,
is a great resource! It's brimming with practical ideas and tips on homemaking, homeschooling, and more. You can see a
step-by-step tutorial for Vicki's bread recipe
(lots of pictures to see), view other recipes, and read various articles about homeschooling and homemaking. My goal is to make time to bake Vicki's bread - it looks so perfect and delicious. I better save up for some better kitchen equipment!
*See what other Crew Members are saying about Everyday Homemaking.
Disclaimer: As a member of the TOS Crew, I received this product, at no cost to me, in exchange for my honest review. All opinions are mine.