Pin It Now!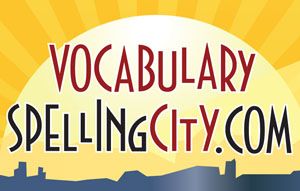 Vocabulary Spelling City
is a great online resource for all school aged children whether they are homeschooled or not. Students can practice spelling and/or vocabulary words by playing games and completing online or printed worksheets, and more.
I've been using
Vocabulary Spelling City
with my kids for a few years now, though not as a premium member. So, my kids and I didn't have access to
all
of the activities and teacher resources - just the free stuff. I was mostly using it as a study tool, and my two older children would actually take their weekly tests on the website. I liked that it freed me up from having to call out words and from sometimes having to try to come up with sentences to words that were even difficult for me!
With a basic (free) membership you have access to:
Teacher/parent homepage
Sharing and importing lists
Teacher Resources
Handwriting practice
Printable worksheets
Some games and activities
Spelling test
Take a moment to watch a
short video
(first one under Getting Started) in which Cara, a fourth grade teacher, gives an overview of Vocabulary Spelling City.
While the site offers a generous amount of free activities, I have often pondered setting up a
Premium Membership account
because of all the extra benefits. I was thrilled when I found out the that Schoolhouse Review Crew was offered a chance to review one!
The benefits of having a Premium Membership include everything the basic membership offers plus:
Individual student log-ins
Premium learning activities (more games and assignments from which to choose)
No distracting advertisements
Grouping students and lists
Automatic record keeping including a grade book
Progress tracking
Vocabulary tests and activities
Telephone support
Flashcards, interactive or printable
For families (up to 5 children), the cost of a Premium Membership is
$29.99
per year. For classrooms (up to 25 students), the cost is
$49.99
per year.
If you'd like, you can
watch a short video
featuring all of the added benefits of upgrading to a Premium Membership. (First video under Premium Membership.)
Incorporating Vocabulary Spelling City's Premium Membership
into our daily homeschool routine has been so simple and quite natural. I especially like that my children can now log in separately and view their assignments for the week (that I have chosen in advance), and get to work!
Here's how it works:
As a parent, I can log in to my account and create spelling lists for each of my children. For my 5th and 2nd grader, I use spelling words from curricula we already have. Since my 8th grader currently doesn't have a spelling curriculum, I choose from existing lists located in Teaching Resources.
After you title the list and enter the spelling words, you need to make sure that you save it.
Once you have saved the list, it will take you to a page where you can choose existing definitions or create your own for the words you entered. I try to personalize a few of the sentences for each of my children. They like guessing which ones I made up. :)
After I create the spelling lists for the week, I go to
Assignments
in the
Premium Teacher Toolbox
located at the top, right-hand corner of the page. I click on
Create A New Assignment
and select a word list from the lists I have already created. For that word list I can select activities, assign to a particular child, and add assignment details such as special instructions and a due date.
Here's a link to all of the activities.
After I am finished, my children can log in separately and view their assignments. Even my 7 year old can log in and complete assignments on her own. I can log in to my account and check my children's progress at any time. On Fridays my kids usually tell me what they made on their tests, but if I want to double check, I can look at the grade book under
Student Records
.
There's more than just spelling lists and assignments at Vocabulary Spelling City! The
Teaching Resources
feature, which I mentioned earlier, includes a variety of useful material. Here, you will find:
Language Arts Lessons which include video lessons, worksheets, themed lists, and more.
Useful Word Lists which include lists for students in grades K-12 and various themed lists.
Articles which include helpful information about teaching spelling, tips for improving writing, and more.
Help and Information which include FAQs, training videos, and more.
Overall, having the
Premium Membership
is saving me loads of time! I will still spend some one on one time with my 2nd grader for spelling, but I love that many of her assignments can be done on her own at
Vocabulary Spelling City
. While she isn't quite ready for the writing assignments, I like that my 8th grader can practice writing sentences and paragraphs here. My 5th grader has chosen to continue using his current spelling program, but he takes all of his tests on
Vocabulary Spelling City.
I highly recommend Vocabulary Spelling City!
See what other Schoolhouse Review Crew members had to say.
Disclaimer: As a member of the TOS Crew, I received this product, at no cost to me, in exchange for my honest review. All opinions are mine