Pin It Now!

Like me, my second grade daughter is an early riser. She usually has a couple of subjects done before her two brothers even roll out of bed!
Because we don't technically start "school" as a family until 8:00, my daughter can run out of things to keep herself occupied. And that is why I
LOVE
easy-to-use, online educational programs that make learning fun! My daughter stays busy and I get to take a shower and
maybe even put on some makeup.
;)
For over a month my daughter has been enjoying a complimentary family subscription to
Samson's Classroom
, an online educational program geared toward students at a K-5th grade reading level.
Samson's Classroom
helps children become better readers by providing educational material and games that zero in on 3 essential building blocks -- sight words, spelling, and reading.

Samson, the program's lovable mascot, guides students through activities as the students work their way to becoming better readers in this virtual "classroom." I love that my daughter can log in all by herself to get started. Once she enters her own username and password, she's ready to go - doesn't need any help from me!

I can check her progress anytime by logging into my parent account. I can see exactly how many games she's played and her scores for each. I can also create my own spelling lists here if I choose to do so.

As I mentioned before, Samson's Classroom focuses on 3 main educational components, Reading, Sight Words, and Spelling. Follow along as I expalin each one in detail . . .
Reading
This portion of the program features reading passages with comprehension questions. There are four levels from which to choose, but even the first level requires the ability to read well. My daughter reads the stories to herself and then answers questions. As soon as she answers a question, she is given immediate feedback: Correct, Used Hint, Incorrect, or No Answer. (You can see the legend provided at the bottom of the picture below.) If she answers incorrectly on the first try, she will be given a hint. The paragraph in which the answer can be found will be highlighted in red. She can then try again to answer the question correctly. Also, I am not sure what the benefit is, but a timer keeps track of how long it takes for my daughter to complete a passage from start to finish.

When she is ready to move on to the next question, she can press the "Next" button.

As my daughter masters the reading passages, she earns Hammer Time Swings to use in the game, Hammer Time. She loves this carnival-type game in which Samson swings a hammer in order to reach the nasty spider. It is a challenging game -- my daughter said she's managed to get him twice. I tried my hand at the game and almost got him. You have to "swing" at just the right time. Anyway, my daughter earns points as she plays, and the top 5 players' scores are displayed for all to see.
The Reading section also keeps track of all of the stories she's read and keeps a tally of correct and incorrect answers.
Before I move on, I want to show you an example of what a level 1 reading passage looks like so you will know if your child is ready for this portion of the program. This is an excerpt from the first reading passage, "A Day at the Beach." There are 4 paragraphs and 7 comprehension questions in the whole passage. As you can see, your child would definitely need to be past the phonics stage of reading.
If your child isn't quite ready for the Reading section, the Sight Words and Spelling sections are better suited for the younger crowd.

Sight Words

This is a great place for beginning readers to learn and master the 224 most commonly used words in the English language. I've taken a different approach when it comes to teaching spelling, and I've never been big on sight words, in fact I thought it was funny that my daughter didn't even know what the term, sight words, meant. However, I will say that there certainly can't be anything wrong with practicing these most commonly used words for extra reinforcement!

There are 4 levels in Sight Words. Each level has 7 lists, and there are 5 steps in each list which need to be mastered.

Step 1:
Study Words
-- Samson calls out the words to my child and spells them out on the screen. In the first list there are 8 words, and it's comprised of simple words such as and, the, is, and big.
Step 2:
Missing Letters
-- Samson spells one of the words out loud, and then my daughter has to choose the letters in the correct order from the 8 choices at the top of the screen.
Step 3: Letter Scramble
-- Samson dictates a spelling word and a sentence with that particular word in it. My daughter has to choose the correct word from a list on the screen.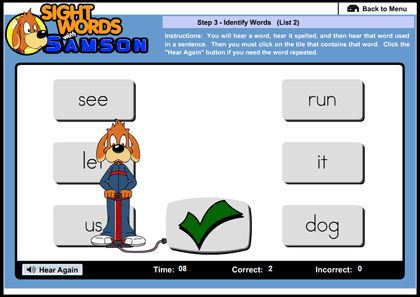 Step 4: Spell Words
-- Here, Samson calls out a word and my daughter has to spell the word choosing letters from the entire alphabet.
Step 5: Missing Words
-- Samson reads the sentence on the screen, and my daughter must choose which word fills in the blank.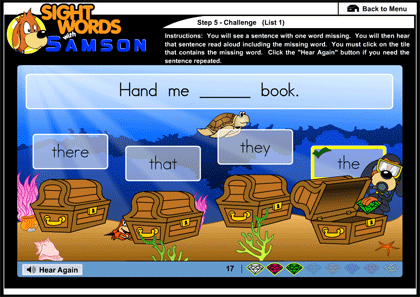 My daughter is motivated to complete the steps by the Sight Words Black Belt Program. When she completes all 5 steps in a list, she earns a star. For every 4 stars, she receives a new belt color. (This brings back memories of my Taekwondo days!) So basically, the goal is to master all 28 sight word lists in order to become a Black Belt.
Even though my daughter has to start out on the first level in this game which is super easy for her, she still enjoys it. She thinks it's really fun to earn belts. So far she's just a Yellow Belt -- probably because I make her spend more time in the Reading section.
Spelling
Samson's Classroom offers students a comprehensive spelling package with more than 5,000 words and counting. There are over 80 word lists prepared by Knowledge Wand, LLC. Fifteen of the lists are are divided by grade level from grades 1st - 5th. The higher the grade level the more words there are in a list. Twenty eight lists feature sight words, and twenty lists are comprised of word families such as -all, -ed, -ot, -up, etc. Some of those lists are pretty short, too. Other lists are grouped into categories like The Kitchen, Summer Fun, Things at the Beach, Fruits, Farm Animals, and more.
For each spelling list there are 4 assignments to complete:
1. Study Zone --
My daughter can see a list of her spelling words, and she can click on each word to hear Samson say it, use it in a sentence, and spell it out. There is an option to print the spelling list with sentences as well.
2. Missing Letters
-- This is a game in which my daughter helps Samson Karate chop his way through missing letters. If my daughter chooses the wrong missing letters, poor Samson ends up with a big, fat headache!
3. Spelling Scramble
-- In this game, my daughter helps Samson collect letters to turn them into words, but she must must watch out for Terrence the Taranchula!
(Ordinarily spelled "tarantula.")
At first, my daughter had quite a bit of trouble with this game. Only the left and right arrow keys are used to play this game, and it was just frustrating to make Samson go the way she wanted him to go. Also, Terrence seemed to be far more speedy than Samson, so Samson would get caught every time right away. Fortunately, the spider only came out once during the game. My daughter was SO pleased with herself the day she outsmarted that silly spider. Now she really doesn't have any issues with the game - it just took some time getting used to it, I guess.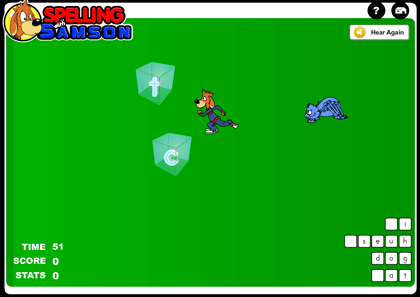 4. Crunch Time
-- My daughter must type her spelling words correctly before Wally the Walrus chomps the iceberg and knocks Samson into the frigid water. Her goal is to get Samson safely out of the water and into his cozy igloo.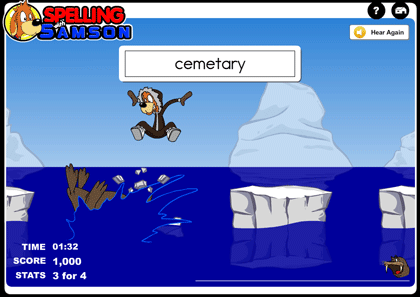 In all of the spelling games, players' high scores are shown as well as my daughters best and latest scores.
Samson's Classroom is a quality program that balances education and fun. My daughter likes it, and that counts for a lot!
My
favorite section is Reading since this offers the most challenge for my daughter, but she likes working on all three sections. Overall, this has been a pleasant addition to my daughter's morning routine.
The learning doesn't stop there! The
Resource Center Menu
offers many additional resources such as articles about teaching and education, lesson plans to help you teach concepts, worksheets that reinforce letter recognition, tracing, and spelling, and so much more.
If you aren't sure if this program is a good fit for your child, watch this 3 minute video and see for yourself!
If you are interested in signing your child/ren up for Samson's Classroom, there are 2 options available for families --
the Home Plan or the Family Plan.
The price for the
Home Plan
is
$30
per year for 1 user. The price for the
Family Plan
is
$50
per year for up to 4 users. Each user under the
Family Plan
will have his or her own user name. This is Mac and PC user friendly.
See what other Crew Members had to say about Samson's Classroom.
Disclaimer: As a member of the TOS Crew, I received this product, at no cost to me, in exchange for my honest review. All opinions are mine