Pin It Now!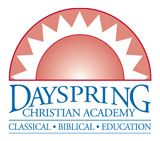 Dayspring Christian Academy
, a principle approach school located in Lancaster County, offered members of the Schoolhouse Review Crew a six month subscription to their self-guided, interactive course,
The Pilgrim Story
. Perfect timing now that fall is officially upon us and
Thanksgiving
draws near!
When I was in elementary school, I could count on learning about the Pilgrims every year around
Thanksgiving
. And I could be sure that bulletin boards would be decorated with cartoonish characters wearing the classic Pilgrim attire - black and white clothes complete with big, black hats and fat, shiny buckles.
(They only dressed that way for special occasions - they mostly wore dark, earthy colors to hide all the dirt and grime!)
Even though history wasn't my favorite subject in school, I loved learning about this crucial time in our nation's history.
The Pilgrim Story
is unique in that it gives in-depth detail of the history of the pilgrims, features many primary sources, and focuses on the providence of God. By the end of this course students will have a complete, chronological history of the pilgrim story. So far, I really like it!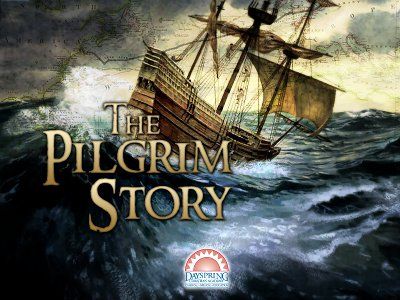 I wish you could hear the introductory music that accompanies this picture we see every time we begin a lesson. It sets the stage for the Pilgrims' many adventures and whisks you away to another place and time. My kids say it sounds like battle music. :)

Before I get in to the details of this course, you may want to become acquainted with The Pilgrim Story by watching this brief overview. (Music in this video is different from what I mentioned above.)
Course Outline:
Pilgrim Story - Introduction
Unit One
*King Henry
*Geneva Bible
*Life in Scrooby
*Liberty of Conscience
-- Unit One Test
Unit Two
*Leaving England
*The Second Escape Attempt
*Leiden
*Preparing to Go
--Unit Two Test
Unit Three
*Leaving Leiden
*Conditions on the Mayflower
*Building Christian Character
--Unit Three Test
Unit Four
*The Mayflower Compact
*Exploration
*The First Winter
--Unit Four Test
Unit Five
*Spring, 1621
*The Wampanoag People
*The Rest of the Story (the next three years) --Unit Five Test
Virtual Field Trip
Before your child begins
The Pilgrim Story
, it is recommended that you provide a 1" 3-ring binder to store all of his work. You will also need 5 divider tabs to separate each unit.
(You can refer to the above outline.)
We are using a 2" 3-ring binder since I am storing all three of my kids' work in one binder. My children (13, 10, & 7) and myself are taking the course together.
This unit based course presents the material in the form of visual slides. A narrator reads the information on the slides and gives additional facts as well.
The components of each lesson include:
List of items
Documents to download
Description of what will be covered
Student note sheet
Enrichment activities
Review of previous lesson
Vocabulary words
Review of current lesson
Suggestions for further reading
At the beginning of every lesson you or your child will print all of the necessary worksheets such as the note sheets, vocabulary lists, quotes from primary sources, and any additional activity pages that will be used during the lesson. Additional enrichment activities include writing assignments, mapping, and more. The note sheets are fill-in-the-blanks. The answers are always underlined on the slides, so there is no guessing or no reason the child should get any of the answers wrong.
Here are a couple of examples of activities your child will come across during a typical lesson:
This type of activity is interactive and mandatory. Your child can't move on to the next slide until it is completed. For this activity we clicked on each name to learn more about that particular person.
This type of activity, a writing assignment, isn't considered mandatory. However it is encouraged that your child complete these as well. My kids did this one and wrote all the items they'd take to the New World. My daughter listed quite a few that had to be crossed off. :( (Sorry, but Mr. Betta Fish would've had to stay behind.) There were other writing assignments that we chose to discuss out loud instead of writing on paper.

At the end of each unit, there is a test. Your child can choose between a multiple choice test or an essay test. We have chosen the multiple choice tests since those are easier for my youngest. We all answer together, and after submitting the answers, results are immediately given. Test scores are recorded under Course Administration: Grades.
The Pilgrim Story
is recommended for students in grades 2-8. Personally, I feel that a child would need to be in fourth grade to complete the course entirely on his own. My fifth grader and eighth grader would have had no problem doing it on their own, but my second grader would have been too overwhelmed. In fact, I had to help her fill in worksheets and complete some of the activities.
If a child works alone, lessons should take about 30-45 minutes, but because we were doing it together, an entire lesson would take at least an hour. It just took longer for my daughter to write her answers, and we would also take the time to do the activities. Sometimes we would only complete half a lesson in one sitting. This was a little inconvenient, though, since the lessons don't pick back up where we stop. So, I would have to shuffle through the slides, sometimes having to quickly re-answer previous questions in order to reach the slide where we left off.
So far, we have completed the first two units, and my oldest and I are reading one of the suggested books,
William Bradford: Plymouth's Faithful Pilgrim
. I am very impressed with the quality of the course and plan to continue. Hopefully we can finish by
Thanksgiving
!
Here's what my two boys have to say about
The Pilgrim Story
:
13 yr. old
-
"The Pilgrim Story is a great alternative to the boring book learning. This course doesn't only explain the Pilgrims' voyage and life to America but also gives great in-depth detail as to why the Pilgrims make this journey. It is very fun, but it is not convenient if you don't want to do a whole lesson at one time. There were also many typing errors. Overall, it was pretty cool."
10 yr. old
-
"I like the Pilgrim Story. First of all, I like that it goes into detail about the background of the Pilgrims. Second, I like that on the tests, it gives you two choices. Multiple Choice or Essay."
Even though we are not finished with the course yet, I went ahead and viewed the Virtual Field Trip for the purpose of the review. (
My kids have to wait until the end, though.)
After watching the slides, it makes me wish our family could take a "real life" trip to Massachusetts! For now we will have to settle for the very informative and interesting virtual trip.
In the Virtual Field Trip, you and your family will follow Mrs. Stauffer
(the instructor of this course)
and her third grade class to Plymouth Plantation. Through over 40 slides you will see and learn about the following:
Forefather's Monument
Pilgrim Hall Museum
Plymouth Rock
Jenny Grist Mill
Mayflower II
Leyden Street Today
Brewster Gardens
Town Brook
The Pilgrim Mother Monument
William Bradford Statue
Cole's Hill Monument
Massasoit Statue
National Day of Mourning Plaque
First Parish Church
Burial Hill
The First Fort
The Cushman Monument
John Howland Grave Marker
Bradford's Grave
I think this field trip is such a great way to end the course. Okay, now I am ready to celebrate
Thanksgiving
. Mmmm, savory turkey, hot corn, and pumpkin pie - oh my!
There's plenty of time to sign up for The Pilgrim Story before
Thanksgiving
.
(Not that you have to sign up before then. Your child can take this course at any time of the year.)
Cost of this course is
$99
. Access to the course begins 48 hours after purchase and can be completed at any time during the 6 month time period. If all of the information from the course is neatly organized in a 3-ring binder, it can be reviewed and enjoyed for years to come. That is definitely my plan!
*Note: There were a few minor typing errors in the first 2 units, and one question was missing - question #10 in Unit 1 Lesson 3. I contacted Dayspring Christian Academy and they promptly responded with the missing information. They are working to add it back in. Here is the missing information in case you need it before then: 10. The church based its government on the New Testament church described in the book of Acts. The Bible was the standard they used for making rules and decisions. They had a democratic form of self government.
Be sure to check out what other Schoolhouse Review Crew Members have to say about The Pilgrim Story.
Disclaimer: As a member of the TOS Crew, I received this product, at no cost to me, in exchange for my honest review. All opinions are mine
Black and white pilgrim photo credit