Pin It Now!

I was really excited about
Adventus
offering their
MusIQ Homeschool
curriculm to members of the Schoolhouse Review Crew. My oldest son bought a keyboard not too long ago and has basically been trying to teach himself to play by doing research on the Internet and by playing by ear. Since piano lessons are out of the question, I figured
MusIQ Homeschool
was going to be the perfect solution to all of my son's keyboard playing needs, especially for learning how to actually read music.
So, What is MusIQ Homeschool?
MusIQ Homeschool is an award-winning, comprehensive, interactive music curriculum designed by music educators for homeschool families. There are two curriculum choices available:
Early Curriculum Software and Lesson Plans for ages 4-10
and
Multi-level Curriculum Software and Lesson Plans for ages 10+
. Put together, MusIQ Homeschool is a 7-year curriculum that includes over 20 levels for students ranging from beginner to advanced. Lesson plans provide objectives, activity sheets, quizzes, assessments, and professional tips.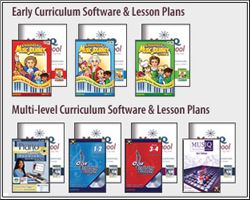 Materials Needed for MusIQ Homeschool
You will need a MIDI Keyboard (piano keyboard that interacts with a computer) in order to use this software. The website recommends the M-Audio KeyRig 49 USB MIDI keyboard which can be purchased on the website.
System Requirements
Early Curriculum:
Windows 7/Vista/XP/2000 or Macintosh OSX and an Internet connection.
Multi-level Curriculum:
Windows 7/Vista/XP/2000 and an Internet connection.
There are several purchasing options to meet your specific needs and to fit your particular budget. The first option for the Early Curriculum is pictured below:
Other Early Curriculum options include:
Year 1 Quick Start Bundle which includes Music Journey Volume 1, Beginner Level 1 Lesson Plans, and an M-Audio KeyRig 49 MIDI piano keyboard. Cost:

$199.95

Year 1 which includes Music Journey Volume 1 and Beginner Level 1 Lesson Plans. Cost:

$89.95

Year 2 which includes Music Journey Volume 2 and Beginner Level 2 Lesson Plans. Cost:

$89.95

Year 3 which includes Music Journey Volume 3 and Beginner Level 3 Lesson Plans. Cost:

$89.95
The first option for the Multi-Level Curriculum is pictured below:
Other Multi-Level Curriculum options include:
Year 1 which includes Piano Suite Premier and Level 1 Lesson Plans. Cost:

$109.95

Year 2 which includes Ear Training Coach 1 & 2 and Level 2 Lesson Plans. Cost:

$59.95

Year 3 which includes Ear Training Coach 3 & 4 and Level 3 Lesson Plans. Cost:

$59.95

Year 4 which includes MusIQ Challenger Game and Level 4 Lesson Plans. Cost:

$69.95
*
All lesson plans for each level in Early Curriculum and Multi-Level Curriculum can be purchased separately for
$29.95
each.
**
If you are ready to take the plunge and purchase both the Early and Multi-Level Curricula at once, this last bundle is for you: (Keep in mind that this bundle does not include all of the lesson plans.)
Subscription Option:
You can choose to purchase a subscription to the software for a monthly fee of
$10.95
. This subscription includes unlimited access to all of the MusIQ Homeschool software titles (over $450 retail value) and a discount on the purchase of a MIDI piano keyboard. The subscription does not include lesson plans.
Piano Suite Premier
For the rest of this review, I will be focusing on Piano Suite Premier from the Multi-Level Curriculum since my 13-year-old son was the one using it. Now, other than taking a choir class at church when he was very little and listening to his dad play the guitar, sing, and lead worship every Sunday, my son has very little personal musical experience. It's just not something we as parents force upon our kids, but I love that my son is finally interested in music!
Let me tell you about Piano Suite Premier before I mention how we used it personally. It is an interactive music program in which your child can learn to read music; play the keyboard; and even compose, print, and play his own pieces. There are five skill levels from which to choose ranging from beginner to intermediate to suit your child's needs.
During narrated lessons on notation, music theory, sight reading, and playing, your child will be given immediate feedback while practicing what he's learned on the keyboard. Incorrect notes will be marked by a
red X
, and in order to continue playing, he will have to play the correct note. All correct notes played are marked as
green
.
In the Learn-to-Play Library your child can choose from 500 pieces which cover a wide variety of musical tastes such as rock, country, jazz, classical, and more. Some of them include more modern artists such as The Beatles, Bryan Adams, Whitney Houston, Boys II Men, R.E.M., and Elvis Presley.
Some of the features of Piano Suite Premier include the following:
This is the main screen where you can choose where to go in the program.
Theory Thinker is where the narrated lessons are, and where my son spent most of his time during the review period. As you can see the lessons completed are marked by red checks.
These are the level 1 lesson plans that go with the lessons in Theory Thinker. Headings include topics like Theory, Technique/Rhythm, Ear Training, Reading, Games, etc. Each heading shows the amount of time it will take to complete the assignments within that particular heading. Lessons last about 40 - 60 minutes.
History Happens is a nice feature where you can learn more about the composers and musicians that have played a part in shaping music throughout history.
Composer's Corner is where you can compose your own music. This is not a feature my son has used yet.
Song Setup is the place where you can choose pieces you'd like to play. My son wasn't quite ready for this either.
How We Used MusIQ Homeschool
As I mentioned before, I was thrilled about the chance to review this piano software. After viewing an hour long webinar, I was ready for my son to begin! Unfortunately, my excitement was short lived when I began to experience a few problems. I ended up needing some help with the installation process and then some more help with getting the program up and running. Thankfully I can always call on my hubby when I am having computer issues!
Next, I needed help getting the computer and keyboard connected and working together properly. Since my son already had his own MIDI keyboard, it was recommended that we might need to purchase a particular adapter, so I went ahead and bought it in order to be prepared. Well, we ended up not needing it, and fortunately my husband found an adapter that worked which we already had on hand.
At that point, I was really beginning to get frustrated, and we hadn't even started the program yet! I'm not techy or musical, so I was feeling a bit helpless. Without my husband's help, I wouldn't have been able to get things going on my own.
Once we were able to start the first lesson, my son experienced some trouble with trying to print a music note sheet, and overall, my son was just feeling overwhelmed with it all. Again, I turned to my husband and asked him if he could sit in on the first lesson to help him figure out how to use the program. Since my husband helped so much with this review, he was kind enough to offer his input. Here's what he had to say:
1. The installation process was a little bit cumbersome. Instead of one executable file, there are several files that had to be downloaded, saved to disk, and run in a particular order.
2. The graphical user interface (GUI) was outdated (think Windows 98), which might create problems for kids growing up in an age of much more intuitive software products.
3. For this reviewer, the USB-to-MIDI adapter was not needed. The software performed as designed via a USB-to-USB connection between the keyboard and the PC.
4. Without printing every lesson plan, it's impossible to determine where one day's lesson ends and another begins via the software application. Additionally, without the printed lesson plans, it's impossible to know which activities are to be performed in the supplemental programs.
-----------------------------------------------------------------------------------------------------
After all of that, my son wasn't exactly thrilled about having to continue the lessons. He didn't really have a choice, so he trudged on. After finishing lesson 7, he decided to start over from the beginning.
He said he felt like he was moving too fast because he was feeling pressure to move to the next lesson for the sake of the review. He said he was feeling lost, confused, and unable to master what he'd been learning. He wanted to go back to what he'd been doing before - learning by ear. He'd actually already learned how to play a few songs by doing it that way, and I think he was just frustrated with all the technical aspects of learning how to play with this program.
I tried sitting in on a few of the lessons to see if I could offer some help and encouragement, but I know it made him uncomfortable with me there. Plus, as I said before, I'm not much help in the music department. While my son was adamant about the fact that he didn't like Piano Suite Premier, it seemed to me that his frustration over the whole thing hindered his ability to learn. I didn't know how to fix that part!
Truly this is not how I wanted this review to end up. I had high expectations for MusIQ Homeschool. Though my son does not want to continue lessons, I would love to give it a try maybe this summer when I have some spare time. I've always wanted to learn how to play the piano, and I know I probably wouldn't be good at playing by ear! Also, if my son is willing to let his little sister use his keyboard, I'd love for her to start with the Early Curriculum which looked really fun.