Pin It Now!

My 13-year-old son gave me one of those looks when I said we'd be reviewing a poetry curriculum. I kind of expected that, but I encouraged him by saying poetry is just one of those subjects everybody has to learn. I remember studying poetry in highschool and not really liking it at the time. I liked reading it and reciting it enough, but having to dissect it was a bit blah, especially poems that were just plain difficult to understand. I admit, I wasn't sure what to expect with this curriculum.

Having reviewed several Classical Academic Press products in the past, I figured if he was going to have to study poetry, this was the way to do it! I knew my son would be fine with the classical approach to studying (lots of reading and writing) since he always seems to do well with this style of learning, but what I wasn't expecting is that he would actually enjoy studying poetry. He said one day, "Ya know, I like poetry." Oh how it made this trophy-winning, poetry-reciting mama proud. ;)
The
Art of Poetry
is a complete poetry curriculum (268 pages) suitable for middle or high school students in the classroom or at home. Students will learn how to read poems slowly and carefully and will be introduced to many of the elements and forms of poetry. It's extremely flexible and can be tailored to meet the needs of the teacher or homeschool parent. I have provided a link to a list of suggested schedules at the end of this post under the heading,
Additional Free Resources
.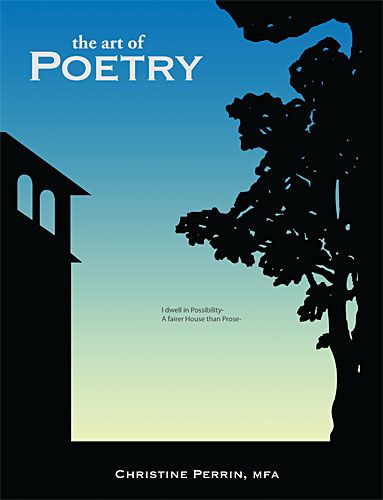 The student book contains 16 chapters and is divided into three basic categories:
The Elements of Poetry
,
The Formal History of Poetry
, and
Application
. There are 8 chapters under the heading, The Elements of Poetry, in which the student will learn about images, metaphor, symbols, words, sound, rhythm, shape, and tone. There are 7 chapters under the heading, The Formal History of Poetry, in which the student will learn the history of form, movement, and genre; verse forms; shaping forms; open verse; and narrative poems. The last heading, Application, contains only one chapter - Growing Your Interest. This chapter would be for the student who wants to take poetry to the next level by getting involved with a poetry group, starting a poem notebook, keeping a writer's journal, reciting poetry, finding mentors, and more.
Each chapter in the book follows a predictable format. In the first few pages the student will learn about a particular element or concept of poetry. Example: The element discussed in chapter 1 is images. Next the student will learn to read closely. Here, the student will read a poem that exemplifies the element or concept which has just been learned. Following the poem is a detailed explanation that the student can read. After that, the student will move on to reading a collection of selected poems (anthology) and answering a set of questions after each poem. Example: In chapter 1 there are 6 poems. Number of questions vary for each poem. Following Anthology is a list of activities from which the student can choose. Example: In chapter 1 there are 9 activities listed such as 1. Take five minutes and freewrite about images from one of the four seasons, 2. Describe an image that is important to you, 3. Describe the past school year through images, 4. Figure out which sense is most important or strongest to you, and so on. The last page in each chapter has a list of vocabulary words and their definitions. These words appear in
bold type
as they are mentioned in the chapter.
Another great feature is the section in appendix a containing short biographies of 51 poets in the book. Poets include Dante Alighieri, William Blake, Lewis Carroll, Emily Dickinson, T.S. Elliot, Robert Frost, Langston Hughes, Henry Wadsworth Longfellow, Edgar Allen Poe, Ezra Pound, Christina Rossetti, William Shakespeare, Robers Louis Stevenson, William Wordsworth, and more. Some of the biographies include black and white pictures as well.
Click to
view sample chapters
from
The Art of Poetry
. (Includes Table of Contents)
Cost:
$24.95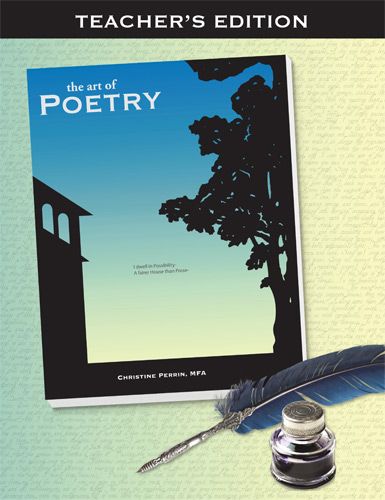 What I love about the
Teacher's Edition
is that it is set up just like the Student Edition. It contains the entire student text. If my son has a question about the poem on page 21, I know I can go to my teacher's manual and turn to that exact same page. Both pages will have the same poem and list of questions. Also, I like that Ms. Perrin thoroughly explains each poem (37 of them) in the answer key section.
The explications of the poems and answers to the questions are at the end of each lesson. These pages are distinguished from the rest of the text by dark gray, 1 inch bands spanning across the tops and bottoms of the pages. This feature makes the answer key very easy to locate when I am ready to grade. This feature also marks the Introduction to the Teacher at the beginning of the book and the poetry timeline and quiz section at the end of the book.
There is a quiz for each chapter and a cumulative quiz which can be photocopied from the Teacher's Edition. An answer key for these are provided as well.
Click to
view sample chapters
from the Teacher's Edition.
Cost:
$29.95
We were given a sample of the DVD to use during our review which featured chapters 1 and 2 only.
The entire DVD set for The Art of Poetry
contains 15 hours of Christine Perrin teaching the lessons and discussing poetry chapter by chapter with four eighth grade students.
This tool can be very valuable if your child likes to see and hear the lessons, however it isn't absolutely necessary to be able to complete the course. I have to say I am glad it isn't a must since our homeschool budget will not allow for the purchase of the DVD set.
While my son and I enjoyed hearing Christine teach at the beginning of the lessons, we felt that the discussion time with the students was a bit long. Each chapter we watched lasted about an hour.
If you know your child would really benefit from having the lessons on DVD, you can save almost
$25.00
by purchasing the
The Art of Poetry Bundle
for
$99.95.
I basically turned this curriculum over to my son and let him work at his own pace. It took him a little over a week to complete a chapter which included watching the video for the first 2 chapters, reading the poems, answering questions, and completing a couple of the activities. I required that he answer all of the questions, but not do all of the activities. I gave him the freedom to choose at least one or two of the activities for each chapter.
I didn't really make time for planned discussions, but as I graded his work, I would add comments or talk to him about some of the elements he didn't completely grasp or needed to expound upon.
This is definitely a course he will continue for the rest of this year and part of the next school year. Having this curriculum has renewed my interest in poetry as well, and I would like to begin including poetry during our family's read-aloud time.
I recommend The Art of Poetry to any student interested in studying poetry or any student who needs to take a course in poetry. It's extremely thorough, and my son is enjoying it. Keep in mind that this will work well for students who like the classical learning style. There's a lot of reading and writing and very few pictures which may not appeal to all students.
Additional Free Resources: