Pin It Now!
I am sure there is an easier way to do this, but this happens to be the way I have cleaned blinds every year for most of my marriage, and I've been married for 16 years.
Wow
.
Blind Cleaning Steps Explained
1. I vacuum blinds first to get rid of a lot of the dust that's collected. I vacuum each slat going across horizontally. Vacuuming keeps me from having to constantly wash out the cleaning rag. Plus, I can't stand the smell of wet dust - yuck!
2. After vacuuming blinds, I vacuum the inside of window and window ledge.
3. & 4.To clean the blinds, I wet an old rag and add essential oils to disinfect and to make the house smell wonderful! It takes some time, but I try to wash each slat going across horizontally. (I saw a neat tip the other day - wear an old sock when cleaning blinds. I will have to try that next time!)
5. I dry the blinds, too. I don't want streaks, and this extra step helps to make sure there's not a trace of dust left on the blinds.
6. & 7. Once the blinds are completely clean and dried, I wash and dry the window.
-------------------------------------------------------------------------------------------------------
I clean one window at a time, and I usually spread out this chore over a couple of days. One regular sized window takes me about 10 minutes to clean from start to finish.
I thoroughly clean blinds once a year, but around Christmas time, I clean some of my windows and blinds again, especially the Christmas tree windows!!!
Cleaning blinds is not one of my favorite chores! How often do you clean your blinds, and how do you do it?
Linking to: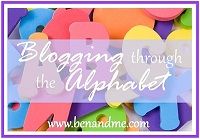 Works for Me Wednesday